Meet Our Team
Nutrition Stop has a team of dedicated experts who are passionate about helping customers find the products they need to support their health and well-being.
Our staff is knowledgeable in nutrition and natural health, and have a wealth of experience in helping customers make informed decisions. Whether you need advice on which supplements to take or need help finding an ingredient for a healthy recipe, our employees are always here to help.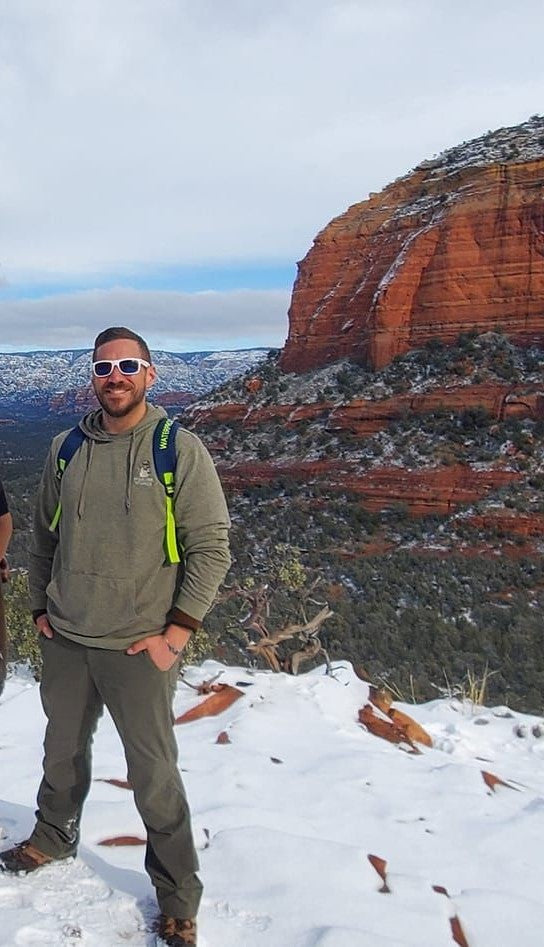 Ryan Mustone
Co-Owner | Store Manager
Ryan Mustone was Manager of Nutrition Stop for a period of three years between 2009-2012 after which he left for volunteer work on Hawaiian farms that ranged from avocado orchards and noni production grows to kava-kava and coffee operations which broadened his understanding of the other side of the industry.
For close to a decade, he served as a wholesale broker and educator in the natural products industry servicing over 150 health food stores across the Midwest for top manufacturers in the natural products space, learning directly from researchers at the forefront of health.
He is a dedicated Wim Hof practitioner, avid hiker, canoeist, world traveler, father, and husband. His mother battled cancer on and off over his childhood that sparked his interest in alternative healing that led him down the natural path enriching his mind with holistic solutions to heal.
He loves canoeing, backpacking, hiking, Phish, and is dedicated to inspiring folks to remember we have an innate ability to heal, naturally.
~Surrender to the Flow~
Contact Ryan
Dr. Jeremy Schiermeyer
Co-Owner
Dr. Jeremy has been helping people in the St. Charles area reach their health goals since 2011. His years of experience in the chiropractic field has helped many find relief and restore their lives. From balancing hormones, healing gut health, overcoming chronic illnesses, his knowledge and experience with homeopathies, nutrition and supplements are renowned.
As the new co-owner of Nutrition Stop, he has made it his goal to make sure everybody has access to the nutritional building blocks to health.
Contact Dr. Jeremy
Jody Kennedy
Assistant Manager
Jody's holistic wellness service experience is comprised of 4 years as a practicing Licensed Massage Therapist in Hawaii, several years as Director of a massage school and holistic wellness clinic and, most recently, 5 years as Manager of the Natural Living/Vitamins & Body Care Department with Fresh Thyme Market. 
The better part of her career was spent in the corporate world and legal profession specializing in project management. She is a Certified Reiki Master and a passionate advocate for the Wim Hof Method, meditation and other self-healing modalities. 
In time outside of Nutrition Stop she loves living in the country surrounded by nature, traveling, hiking, biking, kayaking, meditating, "Wim Hoffing", spending time with friends and, most of all, family, not the least of which is a very savvy feline named Katsu.
Contact Jody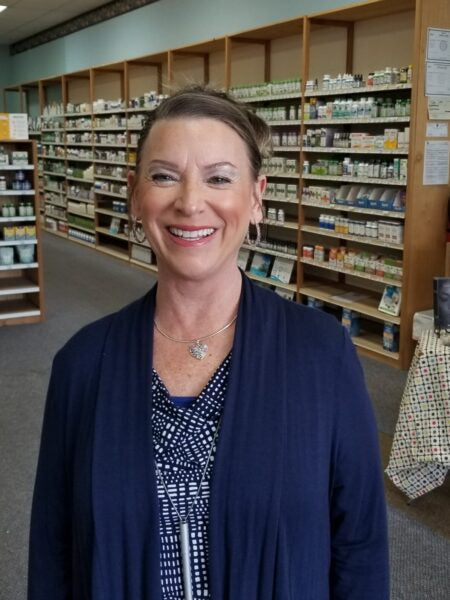 Dawn Jones
23 Year Veteran at Nutrition Stop
Dawn has been working at Nutrition Stop for the last 23 years. She comes from a background in the dental field. Healthy lifestyle has always been a passion of Dawn's. She enjoys helping our customers make informed decisions regarding their health needs.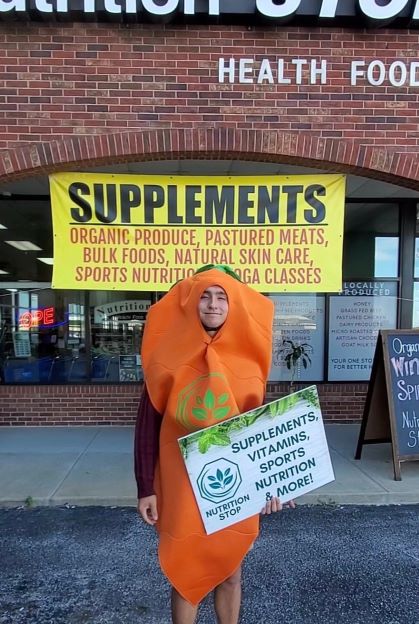 Consciousness Z
You can often find our store mascot, The Conscious Carrot, on the street outside waving a sign.
He is a friendly, outgoing carrot who loves giving out dietary and nutritional advice and getting honked at. Stop by and say hi to Z - he can't wait to meet you!